OLED iPad Rumored to Focus on Lightweight Design and 'Unrivaled' Image Quality
Apple is now producing final prototypes of iPads with OLED displays, with the device focusing on a lightweight design and improved image quality, according to ETNews.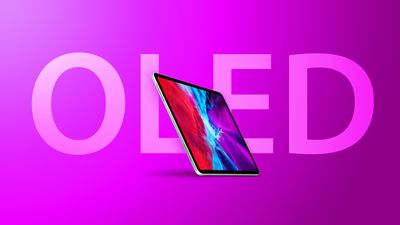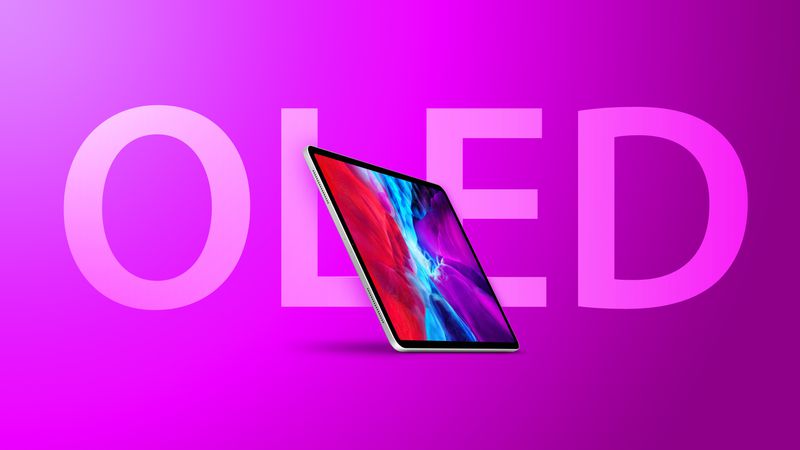 The prototypes are reportedly being produced with Korean display partners Samsung and LG Display and allow Apple to undertake a series of tests. Apple is said to be focusing on giving the OLED iPad a lighter design and "unrivaled image quality," partly facilitated by a dry etching process that significantly reduces the weight of the display. The company is also believed to be developing a special coating to increase the display's durability, necessitated by how thin it is.
The first OLED ‌iPad‌ models are expected to include an 11-inch and 12.9-inch iPad Pro. The devices are widely rumored to launch in 2024.
Related Stories
Apple Suppliers Already Working on Second-Generation OLED iPad
Apple suppliers are already working on display panels for second-generation OLED iPad models, The Elec reports. Samsung Display is said to be in the process of negotiating prices for new Gen 8.5 OLED deposition equipment designed to make OLED display panels for devices like tablets. Samsung is reportedly planning to use the equipment to mass-produce Gen 8.5 OLED panels in late 2024 for the…
Apple's Next Major Display Upgrade Coming to Three Devices
Apple's next major display upgrade is set to come to three devices initially, according to multiple recent reports. Apple introduced its first true mini-LED display with the 12.9-inch iPad Pro in 2021, having previously experienced with very similar technology in the Pro Display XDR that launched in 2019. In late 2021, Apple launched two more mini-LED devices, the 14- and 16-inch MacBook…
LG Working to Bring OLED Displays to Future iPad and MacBook Models
LG is working to supply Apple with OLED display panels for two iPad models before providing larger panels for the company's first OLED MacBook around 2025, The Elec reports. LG Display is reportedly aiming to supply Apple with Gen 8.5 OLED panels for Apple's first OLED MacBook. The device is said to be scheduled to launch "around 2025." LG has been evaluating the deposition process to…
Apple Suppliers Preparing for First OLED iPad in 2024, Followed by OLED MacBook
China's BOE Technology is preparing to supply Apple with OLED displays for future iPad and MacBook models, The Elec reports. In preparation for Apple's supply requirements, BOE will build a Gen 8.6 OLED display panel production line at its B16 factory in Sichuan Province, China, according to The Elec. The new production line will reportedly open toward the end of 2024. The company plans to…
Samsung Aiming to Supply OLED Displays for Both iPads and MacBooks
Samsung is planning to build a new production line in South Korea to make larger OLED displays suitable for tablets and notebooks, with the company ultimately aiming to fulfill orders for future Apple products, according to The Elec. The Elec previously reported that Apple plans to release its first iPad Pro models with OLED displays in 2024 and said that Samsung would produce displays for…
Apple Said to Be Evaluating iPhone 14 OLED Displays This Week Ahead of Mass Production
Apple is evaluating OLED displays for the iPhone 14 this week ahead of mass production, The Elec reports. The OLED display panels in question are reportedly destined for the standard, 6.1-inch iPhone 14 model, with mass production due to begin between July and August. The displays are from Chinese display panel maker BOE, which was embroiled in controversy earlier this year after Apple…
Apple Reportedly Planning 13-Inch MacBook Air and iPad Pros With OLED Displays
It appears "increasingly likely" that Apple will launch a new 13-inch MacBook with an OLED display in 2024, according to display industry analyst Ross Young. In a tweet shared with his Super Followers today, Young said the notebook is expected to be a new MacBook Air, but he said there is a possibility it will have other branding. Young, who has accurately revealed a range of display-related …
OLED 12.9-Inch iPad Pro Rumored to Feature Brighter, More Durable Display
LG Display has begun developing an OLED panel for a 12.9-inch iPad model that features improved brightness, longevity, and durability, according to The Elec. The Elec recently reported that Apple is preparing to release two new iPad Pro models with low-power LTPO OLED displays in 2023 or 2024. The new models could feature improved ProMotion with a wider range of refresh rates. Further to…
Popular Stories
First Benchmark Result Surfaces for MacBook Air With M2 Chip
An early benchmark result for the new MacBook Air has surfaced, providing a closer look at the M2 chip's performance in the notebook. In a Geekbench 5 result spotted by "Mr. Macintosh" on Twitter, the MacBook Air with the M2 chip and 16GB of unified memory achieved a single-core score of 1,899 and a multi-core score of 8,965. These scores are approximately the same as those achieved by the…
Third-Party Cases for iPhone 14 Lineup Highlight Design Tweaks, Larger Pro Camera Bump
Images of cases for the entire iPhone 14 lineup were shared today, reinforcing expectations about the design refinements coming to this year's new iPhone models. The images, shared on Weibo and highlighted by "DuanRui" on Twitter, depict ultra-slim third-party cases for the 6.1-inch iPhone 14 and iPhone 14 Pro, and 6.7-inch iPhone 14 Max and iPhone 14 Pro Max. Although one of the devices is…
Apple Seeds First Public Betas of iOS 16 and iPadOS 16
Apple today seeded the first betas of iOS 16 and iPadOS 16 to public beta testers, opening up the iOS 16 beta testing process to the general public for the first time since the Worldwide Developers Conference. Developers have already had three betas, and the first public beta coincides with the third developer beta. Public beta testers who have signed up for Apple's beta testing program can…
Apple Adding First MacBook Pro With Touch Bar to Vintage Products List
Apple will be adding the first 13-inch and 15-inch MacBook Pro models with the Touch Bar to its vintage products list on July 31, the company said in an internal memo shared with Apple Stores and Apple Authorized Service Providers this week. The first MacBook Pro models with the Touch Bar were released in October 2016 as part of a complete redesign of the MacBook Pro. Other new features…
Apple Now Accepting Pre-Orders for New MacBook Air With M2 Chip
Apple's new MacBook Air with the M2 chip is now available to order on Apple's online store. Deliveries to customers and in-store availability will begin Friday, July 15. Announced in June at WWDC, the new updated and redesigned MacBook Air features the biggest design overhaul to the MacBook Air line since 2010, and is the first to feature the M2 chip . The new model features a slightly…
.