While the Aceman exterior is a big departure from the Mini norm, the interior is a complete break from what has come before but, Heilmer argues, it is much more philosophically in tune with the austere Sir Alec Issigonis-designed original.
"This is pretty much the [production] interior," Heilmer said of the Aceman's spacey and bare cabin. The dashboard has been reduced to a single circular OLED touchscreen with a small toggle bar beneath it.
"This is the same user interface as the [2023] three-door. There's no controller and the display is much cleaner. It's a touchscreen with pop-up support. You have to swipe to change the temperature," Heilmer told Autocar.
"The toggle bar has five elements, like in the original Mini," I added. One of the toggles acts as the transmission shifter and one switches between drive modes. Another is the parking brake.
Because the Aceman uses a bespoke EV platform, the interior is far more open and spacious than today's five-door hatch and Clubman. The dashboard volume especially has been greatly reduced, as has the steering wheel's bulk.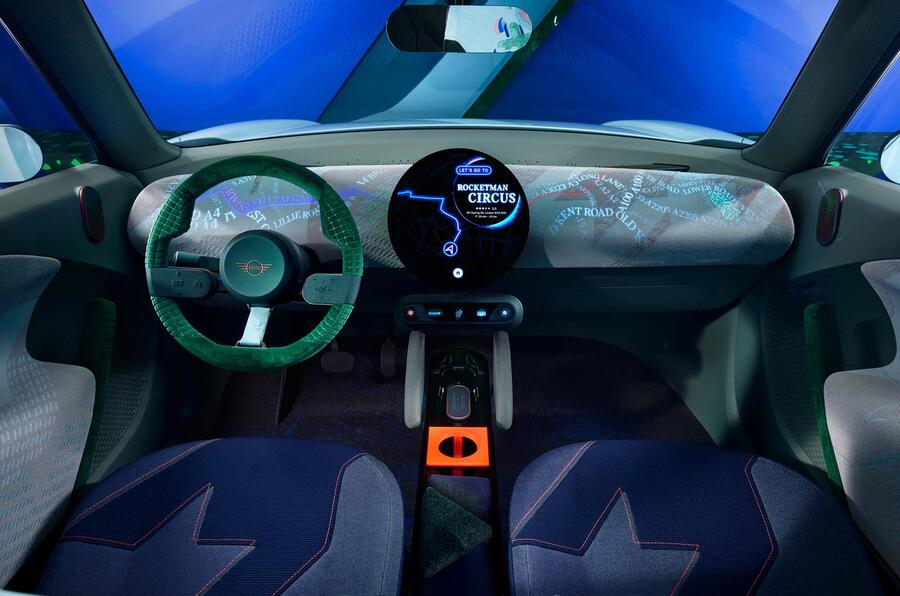 "There's more cabin space, especially in the front, as we have been able to push the HVAC [heating and ventilation pack] forward because there's no conventional engine under the bonnet," said Heilmer. The dash is covered in knitted textiles, but it's not yet known if this will make it to the final production model.