The first embargoed reviews of the new MacBook Air with the M2 chip have now been published. One remarkable detail confirmed by TheVerge is that the $1,199 base model equipped with 256GB of storage has a single NAND chip, which will lead to slower SSD speeds in benchmark testing, but real-world performance may vary.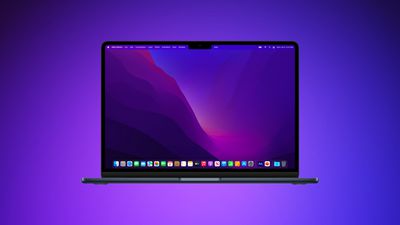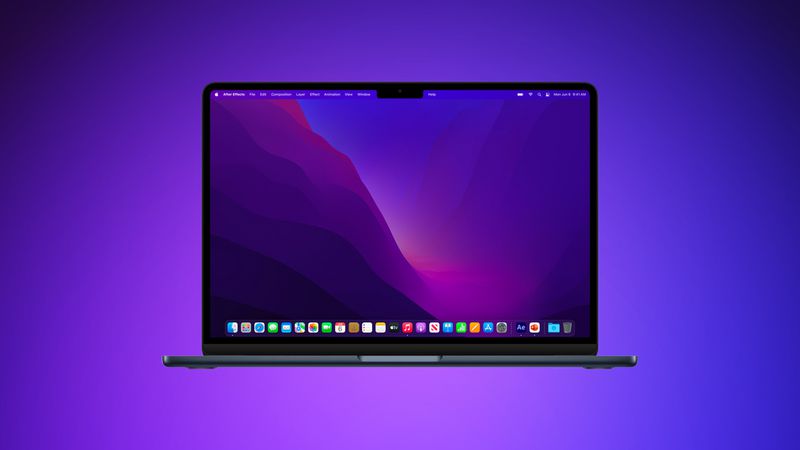 Last month, it was discovered that the 256GB model of the 13-inch MacBook Pro with the M2 chip has up to 50% slower SSD read speeds and up to 30% slower SSD write speeds compared to the equivalent previous-generation model in benchmarks.
The dilemma arises from the fact that Apple switched to using a single 256GB flash storage chip instead of two 128GB chips in the base models of the new MacBook Air and 13-inch MacBook Pro. Configurations equipped with 512GB of storage or more are equipped with multiple NAND chips, allowing faster speeds in parallel.
In a statement issued to TheVergeApple said that while benchmarks of the new MacBook Air and 13-inch MacBook Pro with 256GB of storage "may show a difference" compared to previous-generation models, real-world performance is "even faster":
Thanks to the performance increases of M2, the new MacBook Air and the 13-inch MacBook Pro are incredibly fast, even compared to Mac laptops with the powerful M1 chip. These new systems use a new higher density NAND that delivers 256GB storage using a single chip. While benchmarks of the 256GB SSD may show a difference compared to the previous generation, the performance of these M2 based systems for real world activities are even faster.
It's unclear if Apple's statement refers explicitly to real-world SSD performance or overall system performance. Some tests of the base model 13-inch MacBook Pro with the M2 chip showed that SSD speeds were slower even in real-world usage, but results have been mixed. Overall, if the fastest SSD speeds are important to you, we recommend configuring the new MacBook Air with at least 512GB of storage to avoid any potential impact.
Popular Stories
Apple Ends Partnership With Former Design Chief Jony Ive
Since former Apple design chief Jony Ive left Apple in 2019, he has continued to work for the company as a consultant through his LoveFrom design firm, but the partnership between Apple and Ive is now over, according to The New York Times. Apple and Ive have agreed to stop working together, ending a more than 30-year relationship. I've been responsible for some of Apple's biggest…
iPhone 12 Pro vs. 14 Pro: New Features to Expect If You've Waited to Upgrade
Given that many customers upgrade their iPhones every two to three years nowadays, there are still plenty of iPhone 12 Pro owners who might be interested in upgrading to the iPhone 14 Pro later this year. While year-over-year iPhone updates are often incremental, the new features begin to stack up after two generations. As a refresher, we've put together a list of new features and changes to …
Amazon Prime Day: Rock-Bottom Prices Hit Nearly Every Apple Watch SE and Series 7 Model
Massive sales have hit the latest Apple Watches for Prime Day in 2022, with the lowest prices available across nearly every model of the Apple Watch SE and Apple Watch Series 7. Note: MacRumors is an affiliate partner with Amazon. When you click a link and make a purchase, we may receive a small payment, which helps us keep the site running. Note that we're focusing on the Aluminum versions …
iOS 16 Public Beta: Seven New Features to Check Out on Your iPhone
Apple has released the first public beta of iOS 16, allowing anyone with an iPhone 8 or newer to test out the software update for free. iOS 16 includes plenty of new features, ranging from a customizable Lock Screen to the ability to edit or unsend iMessages. To get the iOS 16 public beta, sign up for the free Apple Beta Software Program directly on your iPhone. Given that iOS 16 is still in…
Apple Seeds First Public Betas of iOS 16 and iPadOS 16
Apple today seeded the first betas of iOS 16 and iPadOS 16 to public beta testers, opening up the iOS 16 beta testing process to the general public for the first time since the Worldwide Developers Conference. Developers have already had three betas, and the first public beta coincides with the third developer beta. Public beta testers who have signed up for Apple's beta testing program can…
YouTube Rolling Out Picture-in-Picture Support on iOS for All US Users, Premium Users Globally
YouTube today that announced it has begun rolling out picture-in-picture support for all iOS users in the United States, allowing iPhone and iPad owners to close the YouTube app when watching a video and continue to view the content in a small pop-up window while doing other things on their devices. Picture-in-picture support has previously available to YouTube premium subscribers in the…
.