Information's Wayne Ma today published an in-depth report reflecting on Apple's struggles to build a self-driving electric vehicle, including technical challenges and several leadership changes since the project began around eight years ago.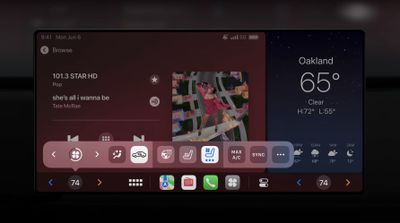 Next-generation CarPlay experience coming in 2023
Notably, the report reveals some interesting details about the physical appearance of the so-called "Apple Car." The latest design of the vehicle is said to feature four seats that face inward, allowing passengers to have face-to-face conversations with one another, along with a curved ceiling that resembles the roof on a Volkswagen Beetle.
The report claims that Apple's designers are also experimenting with a trunk compartment that rises for easy access, and then automatically lowers when not in use. Likewise, the designers are said to have discussed large seat-back screens that rise and lower.
Apple's former design chief Jony Ive has remained involved with the project as a consultant, according to the report. Ive, who left Apple in 2019 to start independent design firm LoveFrom, apparently advised the Apple Car team that they "should lean into the weirdness of the vehicle's design and not try to hide its sensors."
As previously reported, Information says Apple is aiming to gain exemptions from the US's National Highway Traffic Safety Administration to release a vehicle without a steering wheel and brake pedal. Interestingly, the report claims that Apple has even discussed allowing passengers to lie flat and sleep in the vehicle.
As the Apple Car slowly inches towards launching, Apple is now discussing how to disguise the latest prototype of the vehicle during testing in the public, according to the report. However, the vehicle is likely years away from release.
Related Stories
Electric Vehicle Maker Polestar Announces CarPlay Support
Volvo-backed electric vehicle maker Polestar today announced that the latest over-the-air update for the Polestar 2 adds CarPlay support, allowing iPhone users to conveniently access commonly used apps from the dashboard, complete with Siri control. The addition of CarPlay in the Polestar 2 is interesting given that the vehicle's infotainment system is powered by Android Automotive, which is …
Apple Car Team Loses Yet Another Key Employee as Turnover Continues
Apple has long been rumored to be planning an electric vehicle, but the team working on the project has reportedly faced many struggles over the years, including development challenges and the loss of some key employees. One of the latest departures is CJ Moore, who has left Apple to join autonomous vehicle technology company Luminar. In a press release shared by Bloomberg, Luminar said…
Volkswagen CEO Skeptical About Apple Car, Believes in CarPlay-Only Approach
Volkswagen CEO Herbert Diess is skeptical that Apple is planning to sell a physical vehicle and believes that the company is focusing on cockpit software instead (via Reuters). Diess made the comments at the hub.berlin technology conference in Berlin, where Apple is also in attendance represented by its vice president of Environment, Policy and Social Initiatives, Lisa Jackson. "I'm not sure…
Genesis Now Selling GV60 With Ultra Wideband Car Key Integration
Genesis today the announced launch of the fully electric Genesis GV60, with the new vehicle equipped with Apple's Car Key feature for unlocking the vehicle with an iPhone or an Apple Watch. The GV60 supports the Ultra Wideband implementation of Car Key, allowing drivers to unlock and start their vehicles without needing to take their iPhone out of their pocket or bag. Car Key was first…
Apple Announces Multi-Display CarPlay With Integrated Speedometer, Climate Controls, and More
Apple today at WWDC 2022 announced the "next generation" of CarPlay, which will support multiple displays within a vehicle, offer built-in climate controls for adjusting the temperature of the A/C or heat within the CarPlay interface, and more. The next-generation CarPlay experience will be able to provide content across multiple screens within a vehicle, and deeper integration with a…
Kuo: Apple Car Team Must Be Reorganized Soon to Meet 2025 Production Goal
Apple's team of employees working on the company's long-rumored electric vehicle has "been dissolved for some time," and must be reorganized soon in order for mass production of the vehicle to begin by 2025, analyst Ming-Chi Kuo said in a tweet today . Apple's electric vehicle plans have reportedly faced numerous setbacks since the project was approved in 2014, including several leadership…
Apple Car Schematics Reportedly Presented to Japanese Auto Parts Maker in 2020
In January 2020, a man who identified himself as an Apple parts manager informed Japanese auto supplier Sanden that Apple wanted to make electric vehicles, and presented schematics of an electric vehicle and air conditioner parts, according to Nikkei Asia. Apple Car concept by Vanarama based on patents filed by Apple Sanden is a leading manufacturer of air conditioner parts for vehicles, and…
Popular Stories
First Benchmark Result Surfaces for MacBook Air With M2 Chip
An early benchmark result for the new MacBook Air has surfaced, providing a closer look at the M2 chip's performance in the notebook. In a Geekbench 5 result spotted by "Mr. Macintosh" on Twitter, the MacBook Air with the M2 chip and 16GB of unified memory achieved a single-core score of 1,899 and a multi-core score of 8,965. These scores are approximately the same as those achieved by the…
MagSafe 3 Charging Cable Now Available in New Colors Matching MacBook Air
Apple today made its USB-C to MagSafe 3 charging cable available to purchase separately in three new colors matching the MacBook Air, including space gray, midnight, and starlight, with pricing set at $49. Until now, the cable was only sold in silver. Apple already includes a color-matched MagSafe 3 charging cable in the box with the new MacBook Air, but now the cable can be ordered…
Rogers Outage in July 2022: Timeline of Events
Canadian carrier Rogers experienced a massive nationwide outage lasting over 16 hours on Friday, July 8, 2022. Due to the downtime, Rogers customers were unable to make phone calls or use cellular data, and Rogers internet and TV were also down. Rogers has since resolved the network issues. A timeline recapping the situation follows. In a statement shared on Friday morning, Rogers…
Third-Party Cases for iPhone 14 Lineup Highlight Design Tweaks, Larger Pro Camera Bump
Images of cases for the entire iPhone 14 lineup were shared today, reinforcing expectations about the design refinements coming to this year's new iPhone models. The images, shared on Weibo and highlighted by "DuanRui" on Twitter, depict ultra-slim third-party cases for the 6.1-inch iPhone 14 and iPhone 14 Pro, and 6.7-inch iPhone 14 Max and iPhone 14 Pro Max. Although one of the devices is…
Apple Now Accepting Pre-Orders for New MacBook Air With M2 Chip
Apple's new MacBook Air with the M2 chip is now available to order on Apple's online store. Deliveries to customers and in-store availability will begin Friday, July 15. Announced in June at WWDC, the new updated and redesigned MacBook Air features the biggest design overhaul to the MacBook Air line since 2010, and is the first to feature the M2 chip . The new model features a slightly…
M2 MacBook Air Shipping Estimates Slip, July 15 Delivery No Longer Available
Apple on Friday opened pre-orders for the new MacBook Air with M2 chip through its website and the Apple Store app, and delivery estimates have already slipped for all configurations and color combinations in the United States. Shipping estimates for all MacBook Air configurations have slipped to July 26 or later, with some custom configurations with upgraded specs shipping as late as…
.